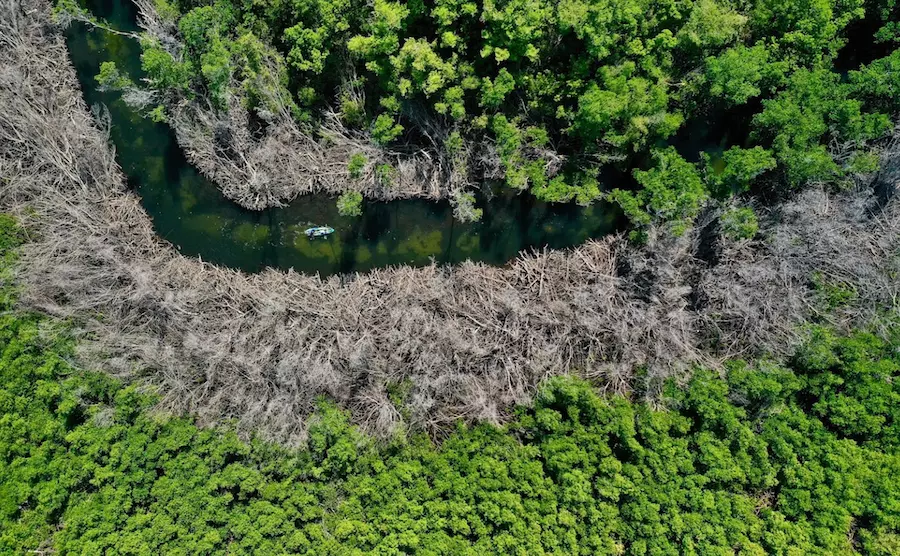 Exploring Laguna Grande, the bio bay in Fajardo
The bio bay in Fajardo, also known by locals as « Laguna Grande », is located on the northeastern coast of Puerto Rico. It is close to San Juan, about one hour drive to the capital and colorful Old San Juan. And about a 30min drive from El Yunke Rain Forest. It is part of a wonderful day trip that leads you from San Juan early morning to El Yunke. Then to Luquillo beach, a perfect place for a swim and a lazy afternoon. End of this beautiful day trip kayaking the bioluminescent bay in Fajardo.
About the nature reserve of Cabezas de San Juan
Surrounded by the nature reserve of Cabezas de San Juan, the bio bay in Fajardo is part of a preservation program. Walking tours are organized by the conservation trust called « Para la Naturaleza » and a guard at the entrance will check if your name is on the reservations list. The tour is called « Meet Las Cabezas de San Juan » and you can book here or call (787) 722-5882. About 100 species of birds have been documented in this protected area. Las Cabezas is teeming with reptiles and amphibians.
The bioluminescent lagoon in Fajardo and its environment
A bioluminescent lagoon is a fragile ecosystem and some human activities can have a negative impact on it. In the spring of 2007, the Puerto Rico Department of Natural Resources stepped in and banned tour operators from allowing their guests to swim in any of the bio bays, including Laguna Grande. The surrounding of the bio bay in Fajardo is mainly composed of coral reefs, sandy and rocky beaches, mangroves, and dry forests. They are all part of this ecosystem and the proximity to each other is what makes Cabezas de San Juan so unique.
One more pernicious factor for Fajardo lagoon's vitality is city-wide development linked to increasing levels of air, soil, and water pollution. In the year 2015, in an attempt to keep the vulnerable bio bay active and alive, the DNER (Department of Natural and Environmental Resources) of Puerto Rico prohibited swimming in the bioluminescent bay. Since then, there is also a daily limit on the total number of people that could paddle into the bay.
What a kayak tour in Fajardo looks like?
Your guide will give you a safety briefing about kayaking on the bio bay
Pack your stuff, put your safety jacket on and get ready to go!
Once you are comfortably seated on your kayak, it's time to paddle
It's time to enjoy this unique moment on the bioluminescent bay
One hour spent on the bio bay we are back on land. Full of memories 🙂
How to explore Laguna Grande bio bay?
Kayaking bio bay in Fajardo
This first option is the most eco-friendly and fun way to explore any bioluminescent lagoon in Puerto Rico. Kayaking with a bio bay tour in Fajardo will lead you really close to the water, so close you will touch it. As a result, paddling the long and narrow canal to the bio bay should also give you a feeling of freedom and adventure that I personally love. It makes no doubt why so many visitors discover Laguna Grande this way. The cost for one person is between 45 to 70$.
Enjoying an eco-friendly tour
For some of us kayaking the long canal can be physically demanding. That is to say, if you just want to lay back and relax, another eco-friendly way to reach the bio bay in Fajardo does exist. Indeed one company is operating an electric boat of 6 seats only, so better get a reservation before getting to the Las Croabas boat ramp. The tour lasts 1 hour and 30min and the cost is around 50$, a bit less for kids. Thanks to the electric motor you will get to spend 45min enjoying the magical glowing lagoon without any effort.
Walking tour with Para la Naturaleza
Cabezas de San Juan is a nature reserve that belongs to the conservation trust of Para la Naturaleza, and the bioluminescent bay is in the heart of that protected area. Of course one of their mission is to educate people, so they are offering several tours pointing to different aspects of the environment. And as you can imagine, the most interesting one goes by night. After a first part full of info about the nature reserve, you will go up to the lighthouse with a van. Up there, enjoying a beautiful view, your guide will approach the problem of city lights pollution.

After that, on your way back, you will stop close by the bio bay. And a small walk in the darkness later, you will finally reach a wood deck and be given a stick. Playing with it you will activate the dinoflagellates within the water. That's when your plastic stick starts looking like a sword from Star Wars. Certainly the most amazing experience of the tour.
Frequently asked questions about the bio bay in Fajardo
How far is Fajardo bioluminescent bay to San Juan?
The bioluminescent bay in Fajardo is the closest to San Juan. Two roads can lead you from San Juan to the Laguna Grande. Depending on traffic the shortest should take one hour drive. Read our special guide about bio bays in Puerto Rico.
What is a bioluminescent bay?
Bioluminescent bays in Puerto Rico are fragile ecosystems. A balanced mix of salty and clear water surrounded by red mangroves and green iguanas. Magic happens when the lagoon waters start to glow. Find out why in our guide about bio bays.
What makes the bioluminescent bay glow?
Thanks to some single-celled organisms, bioluminescent bays in Puerto Rico glow. Back in the days, the first colons thought it was the devil. Discover how the dinoflagellates produce this light in our guide about the glowing lagoons in PR.
Can you swim in the bioluminescent bay in Fajardo?
The short answer is you cannot swim in the bioluminescent bay in Fajardo. It is in fact forbidden to swim in any bio bays since the spring of 2007. Find out where it is tolerated in our guide on bioluminescent bays in Puerto Rico.
Can you go to the bio bay in Fajardo without a tour?
Tours to the bio bay in Fajardo are great. Going on a tour makes you participate in the local economy and the lagoon protection. Even if by the law it is not forbidden, I would not recommend going to Laguna Grande without a tour.
What to wear to explore Laguna Grande bioluminescent bay?
I am glad you have decided to go to the bio bay, the best choice. Reaching Laguna Grande with an electric boat you shouldn't get wet. Another story if you go kayaking. In that case, I would recommend a swimsuit, a t-shirt, and no shoes.